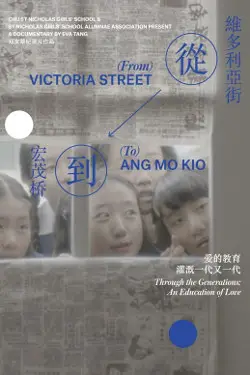 My daughters studied in St Nicholas and my family was invited to watch the documentary film, "From Victoria Street to Ang Mo Kio" on 07 July 2019 (Sunday). The film clearly brought up defining values that make St Nicholas to be one of the topmost schools in Singapore.  After watching the film, I cannot but give my utmost respect and admiration to the pioneers of St Nicholas.  I think there are three values that stand out in the film.
1.      Education with genuine love and concern
The film began by portraying Sister Francoise Lee as a very strict and stern disciplinarian, almost to the point of being unreasonable (shouting at the girls for making a ruckus while climbing the stairs, getting them to climb down and then to climb up again, shouting at a student for retrieving a ball, threatening to expel girls who sympathise with Communist China, etc).
As the film developed, one cannot help realising that Sister Francoise Lee was a genuinely kind and gentle soul beneath her tough and no-nonsensical exterior.  She admitted a China-born student without birth certificate into the school, even when the school was already full.  She exempted a poor student from paying school fees, as well as giving cans of food to the student so that her family would not go hungry. She attempted to make best of her limited resources to give a good education to the students, including teaching them along corridors when the roofs leaked during raining days, while swallowing her utmost disappointment at the unfair treatment of allocating the new campus to an English school while St Nicholas would be assigned to the old campus of the English school.
Being a principal is only a job and there are thousands, if not tens of thousands, of principals overseeing various schools in Singapore over the years.  It is her genuine love and concern for the students that distinguish Sister Francoise Lee above many other principals in Singapore and she propelled St Nicholas far higher than other "academically strong" schools whose main achievements were merely good grades that melt into nothingness once the students entered the universities.
The relevance of this culture cannot be understated in today's society, whereby young teenagers idolise singers and film stars, and sometimes totally neglect the true heroes or heroines who play more defining roles in their lives.
2.      Excellence through dedication and hard work
St Nicholas is known as one of the academically top school in Singapore today.
However, as narrated by the film, that was not the case in the past.  St Nicholas started from a severely under-privileged position of a Chinese school that saw her students being marginalised by students the more privileged English schools (Five St Nicholas students had to squeeze into the back of a car to allow a single student from an English school to sit in front, St Nicholas students being asked to make way for English school students to play at the basketball court, St Nicholas students having to go to Raffles Girls Secondary School to take additional English lessons, etc).
While the St Nicholas students naturally complained a bit here and there, they took things in their own strides.  When students from other Chinese schools went on strikes to protest against the unfair treatments, St Nicholas students kept their heads down and worked even harder under the leadership of Madam Lee Poh See. In an amazing turn of fate, the film revealed that St Nicholas aced out every single school in Singapore, including the "prestigious" English schools, to achieve the best results in the "O"-level examinations!
Through sheer dedication and hard work, St Nicholas rose from a Mandarin-only school that every parent wanted to shun from to an academically excellent school that parents queued up to volunteer social work to attempt secure a position for their daughters to study.  This long path to success was not easy.  It is basically impossible to comprehend the sweat, the agony, the frustration and the pain the school had to endure through over the turbulent years from 1960s to 1970s to reach its excellence today.  Indeed, one only needs to look at the number of Chinese schools that had closed down and lost in obsolete history to appreciate that the path to survival must have been punishing, never mind about the path to excellence.
This value is particularly relevant among students who are quick to attribute their lacklustre performances to external factors, oftentimes citing stronger performers to be more intelligent, have better opportunities, enrol in better schools, are from richer families and have better tuitions, etc.  And they inevitably give up even without trying.  With a single swept of the hand, St Nicholas proved beyond all doubts that resilience and inner strength are the critical and essential factors to achieve excellence, not external factors.  These resilience, inner strength, dedication and hard work are qualities that are usually lacking in most Singapore students, something that they have to learn if they want to achieve excellence in their own lives.  These are precisely the qualities that transform St Nicholas from an under-privileged school to one of the academically top school in Singapore today.
3.      Staying true to oneself
After attaining academic excellence, the film revealed that St Nicholas was invited to develop into an independent school in the 1990s.  While many schools clamoured to distinguish themselves on the ranking system, one of the Sisters in St Nicholas held her ground and refused to let St Nicholas be developed into an independent schoolfor the gifted students.  If you think about it, this was truly amazing.  Many lesser schools would have yelped out in delights if offered the chance to develop into independent schools for the gifted students, but St Nicholas refused to accept the offer.
Her reason was both simple and beautiful.  St Nicholas started with the mission to provide good education to girls from all walks of life, regardless of family background.  It was never meant to be elitist and it was never meant to cater only to the rich and famous.  So the Sister made the decision so that St Nicholas would always stay true to herself.  And with that, St Nicholas held true to her lofty missionto provide good education to girls from all walks of life and not lost her spirit and soul in the rat race for fame and glory.
Of course, there was a small cost to this decision of remaining true to one's own mission and not lost one's soul in the relentlessly mad rat race to pursue fame and glory on the ranking system.  St Nicholas students will naturally underperform students from the more aggressive elitist schools for placings in national and international competitions.  Students from elitist schools will outnumber students from St Nicholas for such events.  This is only to be expected.
However, in the grand scheme of things, this is a small price to pay.  In the pursuit of fame and glory, some of these elitist schools have lost their souls.  Some elitist students attend back-to-back tuitions to ensure good grades and have so little free time that some families pay tuition teachers to do homework for them.  Indeed, some of these students merely regurgitate and rote-learn to achieve high grades during examinations.  In hindsight, the courage to stand firm to stay true to oneself is a most excellent decision.
This value is particularly relevant and important in today's society.  Too often, schools have lost the purpose of their missions to provide education (to teach, to educate and to develop thinking skills) and, instead, focus on getting students to produce good grades.  In the process, students developed this great divide into the elitists and the commoners.  (See https://www.youtube.com/watch?v=zNuvfU6RbVg and https://mothership.sg/2018/06/moe-elitism-fundamental-problems/)  Ironically, Singapore students are not highly regarded when they enter the workforce, as they are usually perceived to be good at following instructions but lack critical and creative thinking skills.
I am sure that the director of the film, Ms Eva Tang, had imbedded other sublime themes and values in the film that I have failed to pick up.  And I believe she will be able to explain the above three values much better and deeper than what I have written here.  After all, I only watched the film for 70 minutes and she spent months thinking through the themes and values in the film.  Nevertheless, I was extremely impressed by the film, to say the least.
As of today, St Nicholas also has an Integrated Programme and a Through-Train Programme to Eunoia Junior College.  I am sure somebody will point out this fact in the comments later and will start to debate whether the third value in the film is or is not  valid in today's setting.  I am not in a position and I will not comment on whether St Nicholas has already embraced the concept of Elitist Education.  In any case, this issue is not relevant to the fact that the Sister made a conscious effort stay true to the mission to provide good education to girls from all walks of life and she rejected the offer to develop St Nicholas into an independent school in the 1990s, as narrated in the film.
Nevertheless, regardless whether St Nicholas has already embraced the concept of Elitist Education or not, one thing is for sure.  "From Victoria Street to Ang Mo Kio" is a definite must-see film for anybody who wants to know what makes a great school.  I definitely recommend all educators and parents to watch this film to appreciate the defining values of a great school.
Ngiao Teng Ngan
14 Responses to "Defining Values of a Great School"