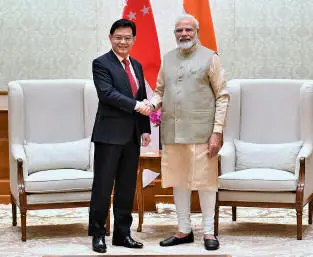 The viper invited PSP to table CECA debate and PSP after some consideration has accepted. But straight away upon their acceptance, one 4G pounced and tried to label them as racist. This under hand strategy has been reused many times in the past against critics and oppositions.
The trend has been the same when the topics are on population statistics, growth, foreign PMET and CECA. Every time these topics are raised, there is coordinated effort from MSM and clowns to steer them away into "racism". This has helped to counter attack a lot of questions because people are generally afraid to be branded racist. And it has been very successful in shutting up more valid questions. In the like of WP asking for population stat and break down of unemployment, foreigners and locals, we could see how establishment deflect questions, not giving straight answers and eventually using the same tactic. And at the end, no answers was given to 10M population except they said they are not aiming for 10M. What about 11M? or 9.9M? Till today, we do not have a breakdown of foreigners and locals in employment or unemployment. But now 1 hour of part time work done by unemployed will make the "unemployed" employed, the joke part honestly.
Do anyone think they will be given real statistics and good debate on merits of CECA? We Singaporeans must remember that these group of clowns have no answers to many of these valid =questions but expect that they will try to steer questions away and brand them as racist as usual. Please do not be taken in by MSM in planting their seed of their objective and steering public opinions to what they plan to achieve. PSP is going down the same path, we expect the same tactics to be deployed.
61% Are Dumb
32 Responses to "Coordinated Effort Using Under Hand Method To Block Valid Questions"