Time and again the government had assured Singaporeans that it has no plans to make vaccination compulsory. I recall it said that at the beginning of the vaccination programme. In September 2021, it again assured us that this is the case.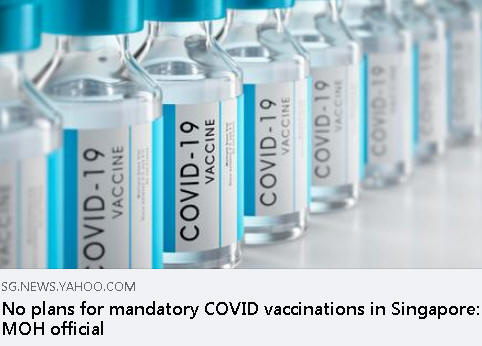 So why is the government telling us that from 13 October 2021, unvaccinated people cannot eat their meals at coffeeshops, hawkers' centres and enter the shopping malls? Have our ministers forgotten their assurances to us? Do they respect Article 12 of our Constitutions which states clearly: "All persons are equal before the law and entitled to the equal protection of the law." Why this inequality now? Is their policy based on facts?
What is the infection rate in open air coffee shops and hawkers' centres as compared to airconditioned restaurants, pubs and hotels?
I think we have reached our limits or at least I have. While it is true that we gave ministers the mandate to govern us in whatever way it fancy, I don't think we have given them the liberty to treat us in such a shabby way. They think they can kick us around because they have the whole arsenal of laws, rules and policies and armies of civil servants to carry out their orders.
This new discriminatory policy affect ordinary Singaporeans who enjoy having meals with friends and neighbours at open air hawkers' centres and coffeeshops. What is life if we have to be cooped up in small flats? Stepping out of the concrete walls is a necessity. Similarly, stall holders need to sell food and drinks and earn a living. Eating out is different from buying food and taking it home. Can our ministers understand this? Or is it something that they cannot imagine because they only eat in high class restaurants?
Covid-19 affects every person. No one wants to fall sick. People make choices, considered choices. We are not as stupid as our ministers think we are. Stop telling us how many of those who die of Covid or got infected with Covid are vaccinated or not vaccinated. They didn't report such details in earlier times. Why do they do this now? If vaccinations cannot immunise people from the disease, this latest policy is yet another act of blind desperation to control the deteriorating Covid situation.
This is not the way to treat us.
Teo Soh Lung
30 Responses to "Government has no plans to make vaccination compulsory?"
Leave a Reply
Scroll Down For More Interesting Stuff